Haunted Hotels in Texas 2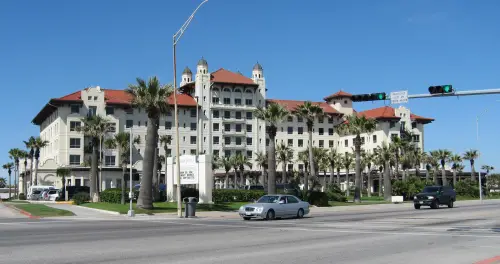 The next listing for our Haunted Hotels in Texas section is a beauty in Galveston. But first, a little background.

If you think hurricane Katrina was bad, the hurricane of 1900 was worse. Considered the United States' deadliest natural disaster, it descended upon Galveston Island on September 8, 1900 with winds that reached up to 125 mph or more. At that time, there was no seawall to protect the city and the 15 foot storm surge wreaked mass destruction, including the deaths of 6,000-8,000 people.

During reconstruction, this now-haunted Texas hotel was erected and opened its doors in 1911. Named after Bernardo de Galvez, the Spanish Governor who first chartered the Texas Gulf Coast after whom the city was named. Hotel Galvez was listed in the National Register of Historic Places in 1980. It has always been a popular getaway and is known as "Queen of the Gulf." Becoming a member of the Wyndham family of hotels in 1988, it is now a Wyndham Historic Hotel and has been recently renovated and updated. It boasts 226 guest rooms on 8 floors, an incredible pool with built-in private alcoves and swim-up bar, jacuzzi, and outdoor grill as well as being situated directly on the Gulf of Mexico where you can charter a boat or rent jet-skis. There is a spa, a restaurant and a health club. It is a wonderful place to spend a weekend, a week or more.
But as with all haunted hotels in Texas, it's had its share of life experience and with these events as well as the hotel's age, reports of hauntings have emerged. You may enjoy knowing that the eye witness accounts are surprisingly frequent in this haunted Texas hotel, too.
Some of the reports of hauntings include:
In fact there have been many accounts of phones ringing in guests' rooms, but when those guests answered the rings, there was nobody at the other end. However, when inquiring at the desk about the source of the calls, it was found they did not come through the switchboard. Read one recent account here.
Here is the major ghost story linked to this haunted hotel in Texas: There was a suicide on the fifth floor in Room 500. A woman was heartbroken to discover her fiance's ship was lost at sea and hung herself after receiving the news. Soon after, her fiancÚ turned up unscathed and this ghost is now trapped in the hotel. Staff have reported hearing whimpers and the ethereal apparition of a young woman in the halls.
The painting of Bernardo de Galvez that is hung at the end of a long hall in the hotel is supposedly haunted, too. It has been said that being in the vicinity, viewing the painting gives one an eerie feeling. Supposedly it is not possible to take a good photo of the painting without asking permission first. Supposedly, you have to ask permission from the painting. This does sound far-fetched, but it is part of the legend of the hotel. Perhaps our visitors could help us debunk this legend.

It is also said that Room 505 has been known to make visitors feel very uncomfortable and the smell of gardenias have been reported. The disembodied reflection of a face has been seen in the large mirrors on the first floor of this haunted Texas hotel. Make sure to update us on your findings if you visit this wonderful hotel. We'd love to know what you discover, if anything.


Use the search tool below for more information.
Enter a date, and it will provide photos, description, map and directions to the hotel - as well as the best rates available.
This special engine searches 30 popular travel sites
at once, bringing back the best rates available.


Need to get there? Use these tools to get airfare and/or car rental costs.