The Capital Ghost
by Jessica
(Albany)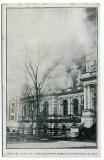 On March 29, 1911, A huge fire happened at the Capital Building in New York. Two people were killed, including a librarian and a custodian.

I visited this building a couple months ago and talked to a couple of people. One person said "When you enter the library, a cold wind greets you even though the temperature is the same in all the rooms." A librarian said "I feel the presence of something in the room and I feel hands on my back".

I also asked a worker who has the night shift and he said, "There is a short man with a mop who cleans the hallway".

This is a true story.