Ghost Image at Cemetery Hill
by Greg Smith
(Ohio)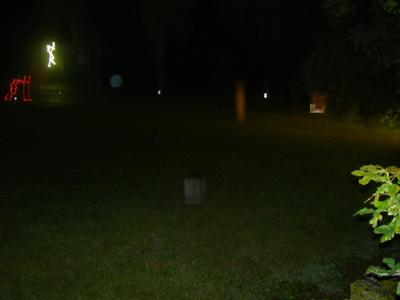 Ghost on Cemetery Hill???
I took one of those "goofy" ghost tours while in Gettysburg. This picture was taken while standing in a parking lot overlooking Cemetery Hill. The main focus of this picture was the white light on the tombstone. The double exposed red light is from a hand-held temperature sensor...so, what was the white light???

Well, it wasn't until we got home that on of our kids said "what is that spot to the right of the center?". Well, I can tell you this for sure...I was holding the digital camera, Nikon Cool Pix 700, away from me and aiming at the small head stone. The graveyard was totally black. If that image was glowing like it was, I would have seen it, along with about 10-15 other people, but I didn't. Kinda hard to miss. This picture was taken on July 3, 2008, 145 years to the day of the battle. I have not touched this picture and it is what it is. Got any ideas, let me know.